Brief
Just Guerrilla was tasked with relaunching the BusinessPRO brand.
They were required to:
Capture the essence of the brand.
Make BusinessPRO more credible and recognisable without being affiliated to the Branson name or Virgin.
To make the brand stand out through service delivery, leadership and its contribution to the local community.
Approach
BusinessPRO requested a new visual identity, along with a relaunch campaign, to attract people to the organisation. What needed to stand out the most was the brand essence: building and guiding people through their entrepreneurial journey.
Just Guerrilla started off by gaining insight about the brand. This was through qualitative and quantitative research such as digital surveys and in-depth interviews.Leading from this research, a micro and macro situation analysis and SWOT analysis was conducted for the brand.
These were Just Guerrilla's findings:
Sustainable brands are those that keep to their brand promise but are not too serious.
People go to training programmes to learn leadership and management skills and not for the celebrity influence, although an influential business persona could sway them.
People will always seek out a brand that has a great online presence as they connect this with reliability.
People are drawn to a modern and relaxed environment.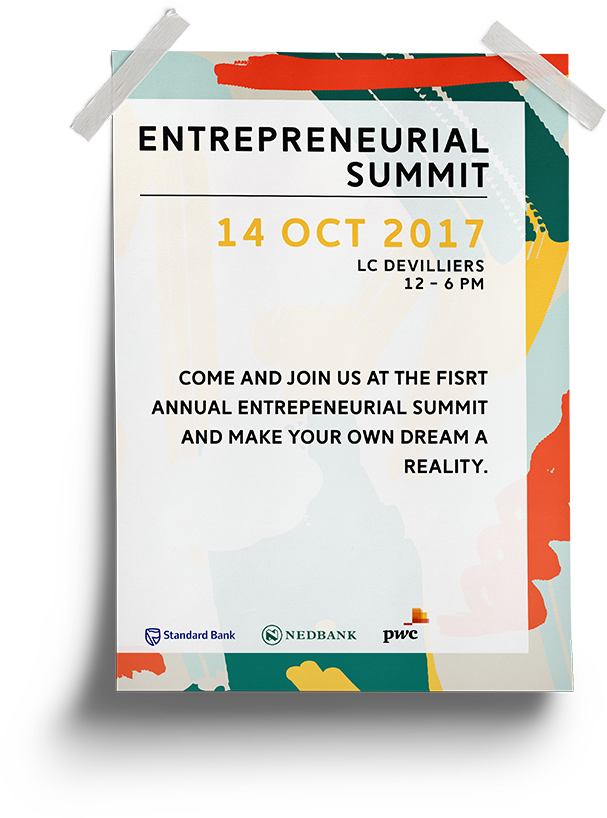 Solution
These insights helped in the conceptualisation of an awareness campaign. Thus, the shockwave campaign was formed. Shockwave is the "ripple effect" of four main stages of the BusinessPRO relaunch; Awareness, Involvement, Investment and Sustainability.
These stages consist of tailored marketing techniques set to attract the desired stakeholder.
The campaign ties in with the desire to motivate and encourage new entrepreneurs to build their dreams with the help of BusinessPRO.