Passion Projects
For some, design means making things beautiful. At IIE-Vega, design is a way to solve complex problems - a crucial skill in the context of the Global South. IIE Graphic Design, Digital Design and Interior Design students were briefed to design solutions to the challenges affecting the UN's Sustainable Development Goals (SDG's).
The core steps of the project were to:
Pick an SDG that the student felt passionate about
Analyse the problem in the context of their community (ranging from the global village to the microcosm of their class)
Conduct in-depth primary and secondary research
Design a conceptual solution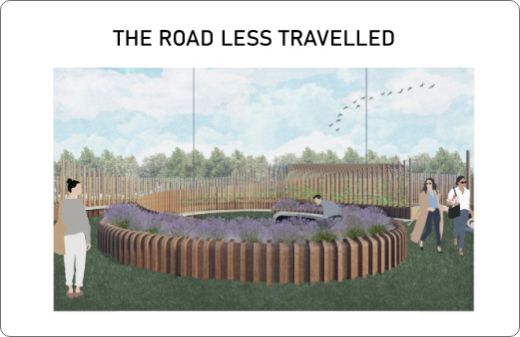 THE ROAD LESS TRAVELLED: mental health
The Road less travelled is a project concerned with raising awareness and providing a solution to an important mental health issue, namely Social Anxiety Disorder (SAD). The design of a customisable, travelling installation will create the opportunity to reach countless university students in South Africa in an attempt to build awareness about SAD. Additionally, the installation will be purposed as a safe haven that allows for reflection, communication and shared... experiences. The design was inspired by traditional labyrinths seeing that it is a practise that has long been employed for meditational and healing purposes. The Road less travelled, is a symmetrical experience of two joined labyrinths that create seemingly ongoing pathways leading to areas programmed for social interaction as well as more private spaces for individual reflection. Users of the space are encouraged to leave their mark on the structure to share their experiences.
Students: Abigail Wagner and Itumelang Mosebi
Discipline: IIE BA Honours in Interior Design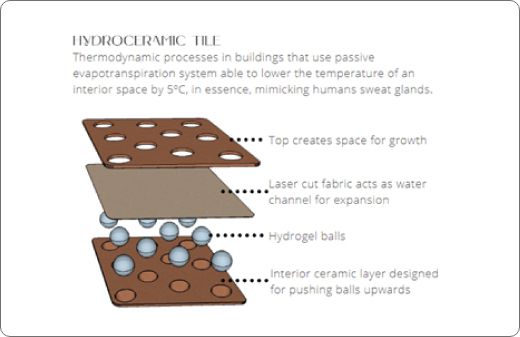 BIOPHILIC DESIGN - climate change
This project addresses an environmental wicked issue; climate change and the possibility of regenerative design instead of continual renovations. The solution looks at the concept of hydro ceramics as a building material and how it mimics the strategies of the human body. We created a dome shape that uses hydroceramics that would be placed within the Kruger National Park's rest camps as picnic spots. The structure makes use of biomimicry by adapting the aesthetic and mannerisms of nature and wildlife within the region, biophilia will be incorporated in order to... keep the connection between the outdoors and within the domes to ensure the feeling of being outside is still maintained. Regional plant species that are able to grow through clay which will eventually become the dome.
Students: Chané Jacobsz and Alexia Morezzi
SEED BEYOND YOUR SOUL – reviving a community garden in a poor community post-COVID
Sibahle community vegetable garden in Boikanyo – a project aimed at educating the community about sustainable agriculture and healthy food while providing local schools and households with food. The project ceased to function during COVID because it relies on volunteers who stopped coming to work in the gardens as they feared catching COVID from contact with other people. ... Although volunteers are now returning, they lack the funds necessary to revive the project. The student came up with a mobile game concept to inspire people to donate, volunteer and get involved again. The game is supported by a social media and billboard campaign to raise funds and awareness.
Student: Jaime Boolkin
Discipline: Digital Design
Campus: Bordeaux
DALA WHAT YOU MUST – tackling youth unemployment in Eldorado Park
Based on research findings within the Eldorado Park community, the student came up with a conceptual solution that utilises street pole posters linked to a mobile application to put young people in Eldorado Park in touch with potential Mentors in the community. The idea ... is that, with people working from home, young people can get an opportunity to job-shadow community members who are working from home and get some exposure to what different jobs entail. In addition, Mentors in the community donate time to offer short courses and mentorships that will provide young people with some skills that might improve their chances of getting internships and some work experience. Lastly, the solution will include a mobile app where internship opportunities are posted and where young people can apply.
Student: Zeynia Wax
Discipline: Digital Design
Campus: Bordeaux
I AM INTERFAITH – I AM NOT TABOO – promoting interfaith tolerance
For this project, the student explored the challenges faced by young people in interfaith relationships. She came up with a conceptual solution of creating a Netflix documentary telling real-life stories to get a conversation going about the topic and to promote tolerance. The documentary is supported by a movie poster and an awareness campaign on Instagram.
Student: Zuhaira Osman
Discipline: Digital Design
Campus: Durban
FLYING PHOENIX FOUNDATION - tertiary students donating time to help primary school children who have no support, with schoolwork
The student identified the impact of online / hybrid teaching on primary school kids whose parents were unable to support / help them with schoolwork during the COVID pandemic. In households where parents were unable to support learners with schoolwork, learners ... tended to fall behind and their schoolwork and self-confidence suffered. The conceptual solution the student came up with is to raise awareness and inspire high-school and tertiary students to volunteer time to mentor and help primary school learners with their schoolwork. Awareness and financial support will be raised and volunteers recruited through a poster campaign in high schools and university campuses, a social media campaign and a website where people can find out more and sign up.
Student: Jeremey Cook
Discipline: Digital Design
Campus: Cape Town
THROUGH THE LOOKING GLASS – transmedia campaign to raise awareness about cyberbullying
*INTERNATIONAL COLLABORATION: IIE-VEGA DIGITAL DESIGN STUDENTS (CAPE TOWN) and FONTYS EINDHOVEN
The brief required students to explore cyberbullying, its root causes and consequences and to create a transmedia campaign, using storytelling and audience involvement across multiple... digital platforms, to raise awareness about the problem. The group came up with a story called "Through the looking glass" where the audience is encouraged to actively engage by signing up as cyber sleuths on a gamified platform. In their role as investigator, they get to explore victims' stories of cyberbullying and to participate in a search for Alice, the mysterious perpetrator. The story gradually unfolds as the audience hunts for clues posted across various social media platforms, trying to find Alice. The aim of the campaign is to raise awareness of the importance, dangers and responsibility of the anonymity the internet and social media afford users.
Students: Julia Blythe, Tyler Ainsworth and Rufaro Chilware
Discipline: Digital Design
Campus: Cape Town
#HIGHLIGHTTHEUNSPOKEN
South Africa has many mental health issues and abuse. However, though these issues are prevalent, they are left unspoken in many circumstances. Some issues may even be 'taboo' in some households and individuals experiencing these dilemmas are made to feel as if they are overreacting or simply, seeking attention. Therefore, many resort to staying silent about such matters....Thus, Stabilo, partnering with the South African Depression and Anxiety Group (SADAG) can make a positive impact for many. 'Highlight the Unspoken' is a movement that is dedicated to raising awareness on societal issues with the hope to remove many stigmas and discouragement surrounding these topics and hopes to encourage people to speak more openly about them and to inspire society to support those who feel alone in their battles. Highlight the Unspoken will run yearly, with a different issue being the highlight. Each topic will be related to the Boss Stabilo highlighter range and the corresponding colour. This campaign will begin in 2022 and the unspoken topic to be addressed is depression, with the corresponding colour being blue. This is particularly aimed at raising awareness about depression amongst the adolescents, since many have suffered tremendously during the Covid-19 pandemic, with nowhere to go, no one to see, feeling trapped at home and struggling with schoolwork. As a result of this campaign, Stabilo will provide those who require or seek help, with the relevant information and support systems.
Students: Aunisha Hooseria, Christopher Meiring and Megan Taylor Hills
Discipline: Graphic Design
Campus: Pretoria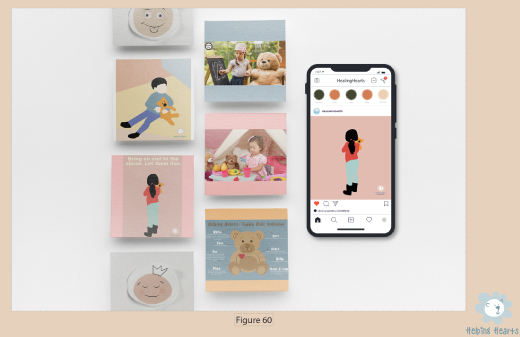 HELPING HEARTS
This student created a product that speaks directly to children that inhabit spaces of victimhood and the resulting feelings of alienation and being alone. What sprung to mind was something that all children hold dear to their hearts, the embodiment of childhood and youth: a teddy bear. A teddy bear has no gender, no culture or creed and no assigned race and as such acts as a universal item of enjoyment for all children.... The student applied a new function to the teddy bear that not only makes it enjoyable for children around the world, but also protects them. Firstly, an identity was developed. The logo consists of a bear surrounded by flower petals, indicating the soft nature of the brand, and presenting the consumer base with the brands primary product; the teddy itself. With regard to the contact points of the brand, the student created awareness posters that portray children with no faces, portraying the idea that the abuse suffered by children robs them of their identity and sense of self. An app was also conceptualised that serves as a link to the teddy bear's sensors. This allows parents and hotline communicators to monitor a child believed to be in danger. The app allows for the tracking of a child's emotional states for up to a year and supplies users with summarised infographics pertaining to the well-being of the child possessing the bear. Social media has also been used as a contact point to ensure that the brand has a large social reach and caters to all demographics using media, such as children and young parents. Both the app and the social media platforms are tailored to suit the colour scheme and feel of the brand.
Student: Hannah Rosekilly
Discipline: Graphic Design
Campus: Bordeaux