Higher Education COVID Response: Connection Key to Positive Outcomes - Survey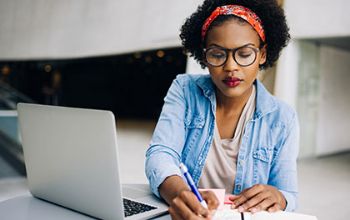 Lack of peer contact and motivation have emerged as two of the key challenges that faced higher education students last year after institutions took teaching online in response to the COVID-19 pandemic and lockdowns, a survey has shown.
The in-depth survey, conducted by The Independent Institute of Education (The IIE) provides a quantitative and qualitive look at how public universities and privates responded to last year's challenges, as well as the impact of various strategies and approaches on students.
"As we prepare to launch into a new academic year this March, lessons learned from last year will provide a valuable roadmap for the future, given that we will continue for the foreseeable future to face many of the same challenges we encountered last year," says Dr Felicity Coughlan, Director at The IIE, SA's largest and most accredited private higher education provider.
She says one of the surprising findings of the survey was that students did not cite access to data or hardware as their primary struggles.
"The number one issue, cited by more than 40% of respondents, was that students missed their peers and found it hard to adjust to online learning, ultimately leading to a loss of motivation on the part of many," she says. By comparison, less than 24% of university students in the study cited fees as a barrier experienced under lockdown, and 29% mentioned data struggles.
The survey tested the sentiment of a demographically representative sample of students from 22 institutions – 8 privates and 14 public universities across South Africa – about their lockdown learning experience.
The survey looked at student perceptions of the responsiveness of institutions to the COVID-19 crisis and the extent to which they felt they were being prepared for the working world.
Although the study was limited, it was clear that there was a considerable difference in the quality of responses across the board. Nonetheless, although many respondents rated the standard of online teaching and engagement as "Good" or Excellent", more than 27% of students from Universities cited lack of support as an issue, under lockdown. Even within faculties within the same institution, inconsistency was experienced as contained in student comments. "Some were good and some were bad," said one Engineering student. "I don't like how things are being done now," said another, "I feel a lack of enthusiasm coming from everyone."
"The focus for Higher Education Institutions this year must be on two fronts," says Dr Coughlan. "Ensuring consistency and effectiveness of teaching and learning, as well as providing the crucial support students need. Students expressed a need for safety, consistency, security and predictability, and as we head into another uncertain academic year, effort must be made to address these concerns.
"Additionally, while students want the transmission of knowledge by for instance coming to class and writing down what the lecturer says, they also need active learning where they are involved and engaged with learning materials.  So online platforms where lecturers try to mirror what is happening in class without active engagement will be less effective, because students are inclined to disengage more readily when they are not visible to the lecturer, who then is not in a position to respond to the disengagement."
Dr Coughlan says any teaching and learning in higher education must be theoretically sound in the sense that you need to have a theoretical model that accommodates many teaching and learning situations.
"When teaching face-to-face, there will usually be a measure of consistency of delivery across modules. However in the online space, there may be a huge variation in terms of how lecturers manage the development of knowledge and skills.  It is this varied nature that may have made students hold less positive perceptions, because of the aforementioned lack of predictability and consistency."
She says going forward and while the current COVID-crisis endures, higher education institutions must make an extra effort to introduce measures that will support students and assist with maintaining their emotional wellbeing.
Another interesting facet of the survey, further highlighting the differences in the experiences and expectations of students, was that only 65% of public university students felt that their online learning experience was preparing them to be successful in the future workplace. Although many respondents believe that studying from home prepares students for a new age of working from home, others were despondent.
"Online does not equal better," said one respondent, with another adding: "I am just worried about how this mess will translate by the time we start working". "It's making me too anxious to even think about my future workplace," said a commerce student.
"We take important insights from 2020 with us into 2021," says Dr Coughlan, "and as private higher education institutions and public universities we need to ensure that we not only respond to our ongoing crisis as effectively and resiliently as possible on an academic front, but also that we provide the necessary support for students to prepare them to enter the workplace with confidence, and equip them with the important non-academic skills they will need to thrive in a changing world."
Issued by The Independent Institute of Education (The IIE)