Loeries Ranks the IIE's Vega as Top Educational Institution For 2019 in the Middle East and Africa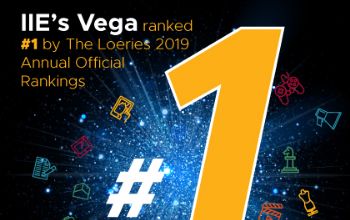 Vega, a brand of The Independent Institute of Education (The IIE), has been ranked as South Africa's Top Educational Institution in the student category of the Loeries Official Rankings, making Vega the most awarded tertiary brand in 2019.
In addition to Vega's victory at a school level, 10 students* from Vega made it to the Top 20 student category, lauded for their high standard of work and innovation. Three navigators* (lecturers) from Vega also took the spotlight, winning first, second and third place in the Loeries Top Lecturer category, with seven navigators from Vega claiming accolades in this category of 15 individuals*.
"It is an absolute honour for Vega, as an award-winning tertiary brand that has been dedicated to excellence in the educational sector for the last 21 years, to be recognised for excellence through the outstanding work and efforts of our students and staff, the people who make Vega what it is," says Shevon Lurie, MD at Vega. "Thank you to the Loeries for this powerful recognition. We wear this achievement proudly, and continue to be committed to achieving excellence going forward."
The Loeries Official Rankings list the top brands, agencies and institutions, offering a comprehensive overview of the annual performance across the brand communications industry throughout Africa and the Middle East.
The prestigious Top Educational Institution category assesses institutions based on the outstanding performance and achievements of their students and lecturers, and the awards and special mentions received at the annual Loeries Awards.
Twelve students from Vega received top honours in the August 2019 Loeries Awards, bagging two golds, two silvers and one bronze Loerie award for their work.
Click here: to see the 2019 Loeries official rankings
NOTES
IIE Vega students ranked in the Loeries Top 20 Students category for 2019:
Vini Xavier (1st)
Cara Brauckman (2nd)
Tshego Kwele (3rd)
Justine Clyde and Roxanne Schoon (5th)
Amy Tjasink (7th)
Bathabile Xaba and Lebohang Machitje (13th)
Christian Botha and Kyle Gounden (17th)
Lecturers at Vega ranked in the Top 15 Lecturer category
Christiaan Graaff (1st)
Darren Meltz (2nd)
Mathew Mjindi (3rd)
Mandy Speechly (6th)
Gawie Joubert, Jody Simpson and Siobhan Gunning (9th)