The IIE's Vega Provides Young Learners With First-Hand Work Experience in Brand Building and Business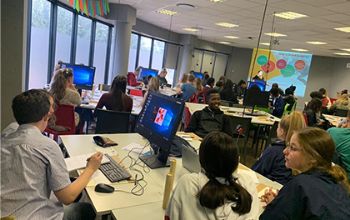 The hardest thing about being a learner is not knowing what and where to study. Being given an opportunity to help make that decision while still in school is a massive advantage. The IIE Vega has taken it upon themselves to pay it forward by assisting learners from various school through their annual BizBrand Jam and Vibe events, to provide learners with first-hand experience on what to expect in the real working world.
Vega BizBrand Jam and Vibe events are yet another way that we aim to give back to schools and continually expose learners to great industry initiatives to equip them with the skills they need to pursue their careers," says Elne Spang, Vega Pretoria Academic Navigator.
"The experience they gain at our career events prepares them for what's to come in their tertiary careers and ultimately, to be strategic and out-of-the-box thinkers in the workplace."