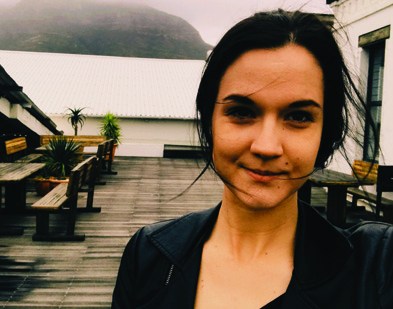 IIE Bachelor of Arts (BA) in Graphic Design*

Johannesburg

Lead Designer and Art Director at VML South Africa
​Marjorie, known as MJ, has already made her distinctive mark on the industry since only completing her studies in 2016. Working at VML South Africa she is the lead designer and art director for Nike, who use VML as their main digital agency. Native VML merged with Y&R in 2018 and now they operate together under VML South Africa with a through-the-line agency offering. MJ's focus is on the digital aspects of the business, spending her time conceptualizing and designing digital campaigns, social media content and web banners. She has also branched into User Interface design since she started at VML and helped create Ster-Kinekor's new website.
MJ breaks the industry mould by being multifaceted because she doesn't let herself be boxed into labels. There's a common misconception that designers can't art direct or conceptualize, but after being hired as a designer she made it her personal mission to be more than her job title, which has now led her to have numerous titles and doing the work of a designer, art director, and UX/UI designer. MJ loved that her IIE degree from Vega "taught [her] not to limit herself in one way of thinking, living or doing", and as a result, she has become a much more confident thinker and doer. 
During her studies, MJ was awarded the prestigious Pendoring Award for her design work in her home language, Afrikaans, as well as won the Facebook Hack for Good during the Loeries Creative Week where she competed against the top students from other advertising and design schools in South Africa. She recommends The IIE BA in Graphic Design* for those who don't have one-track minds because it "shapes you into a strong creative who's also armed with an understanding of strategy, media and industry", something that few other candidates have.
*MJ graduated with an IIE BA in Creative Brand Communication. As of 2018, the three streams that used to be offered on this degree will be offered as standalone degrees in Graphic Design, Copywriting and Digital Design.