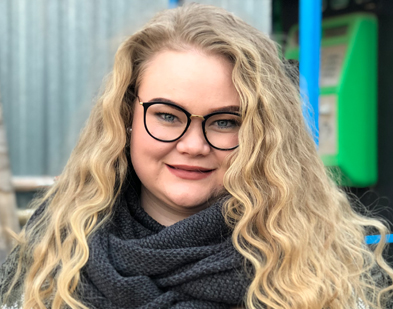 IIE Bachelor of Arts (BA) in Fashion Design

Pretoria

Wardrobe Assistant and Buyer, Danie Odendaal Productions, 7deLaan
​Melanie is a Wardrobe Assistant and Buyer on the set of the Danie Odendaal Productions, 7de Laan, an Afrikaans soapie that has been on the air for over 18 years on SABC2. She is responsible for the actors on set and prepares their wardrobe and ensures there is continuity throughout the scenes. As a Buyer, she sources and buys clothes and textiles that are suitable to use in front of TV cameras. Each character has a unique style and it's her responsibility to make sure they are camera-ready when they step on set. Melanie started off as a wardrobe intern and has been working with the company for over 4 years. Working on a TV set is "quite challenging with a lot of hard work and often 13-hour days", but it is where she has found her passion and is an opportunity for her to showcase her creative talents. She makes a difference in the lives of South Africans because by doing her job well, she is a part of a medium that entertains people from all cultures and provides a relaxed escape from reality, the process of which is often underestimated. 
As an IIE BA in Fashion Design student, Melanie worked under high pressure to finish big projects in a limited amount of time which prepared her for the standards of the fast-paced industry. She says that all her modules, but especially Visual Communication and Fashion/ Costume history, laid the theoretical foundation with which she was able to combine with practical experience to build her career. Melanie recommends studying fashion at The IIE's Vega School because it offers an intimate environment with smaller classes which means "the feedback to your work is more intensive, allowing lecturers to spend more time with each student." She has also found that her lecturers were personally invested in her (and others') careers, giving her the self-confidence and motivation to tackle the highly competitive fashion industry.