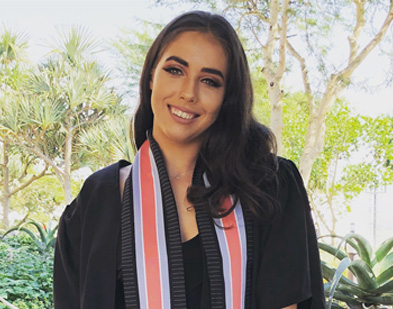 IIE Bachelor of Arts (BA) in Strategic Brand Communication

Durban

Junior Account Manager at BK Agency
​Since graduating, Rayven has been hired as a Junior Account Manager at BK Agency, a local start-up. However, her role has extended far beyond her job title, a challenge she has embraced because she is part of a lean and agile workforce. As an agency, they have a wide offering including event and PR management, social media, digital marketing and visual communications. Rayven's current key accounts that she handles are Sibaya Casino, Rockwood Theatre and Nail Factors, and she looks forward to gaining more experience in other industry types to expand her knowledge throughout the various sectors. She prides herself on creating a more pleasant and unique customer experience for those who come into contact with the brands she works with and finds it greatly rewarding when she receives positive responses and feedback, especially from those who encounter the brand for the first time. 
Rayven has found that the highly practical nature of her degree helped with her transition into industry, noting that Brand Challenges and internships gave her a more realistic perspective of the type of situation that she would one day work in, as well as helping her realize which type of environment suited her best early on. Rayven enjoyed The IIE BA in Strategic Brand Communication because she found that it was well-balanced and well-rounded, as she was trained in certain design aspects in addition to the strategy which gave her an edge over other candidates. She recommends The IIE's Vega School because it "equips you for the working world", and at the end of her studies it became not so much about the material degree she had earned but more of the intangible benefits, specifically "how much value [she] could add to society."