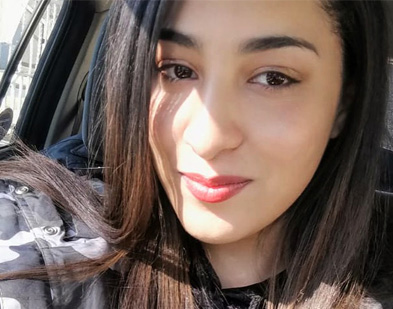 IIE Bachelor of Arts (BA) in Graphic Design*

Johannesburg

Art Director and Designer at Ogilvy & Mather
​After receiving numerous awards during her IIE BA in Graphic Design at Vega, including the internationally acclaimed D&AD New Blood Award, the ProMax Africa Future Award, and the Black Pixel at the South African IAB Bookmark Awards, Saarah is now an art director and designer at Ogilvy & Mather Johannesburg (Ogilvy), taking part in their o25 Graduate Programme in 2018. Ogilvy is one of SA's biggest advertising agencies and services big brands like Vodacom, KFC, Multichoice and Castle. The o25 Graduate Programme is hosted by Ogilvy every year to find fresh, new talented people coming out of SA's top advertising schools. Saarah was accepted into the programme and fast-tracked so that she could bypass the first stage of the application process and go straight to the next step, Super Saturday. 
They get real work experience as well as training and insight into every department in the agency. Saarah has worked in Team Red on the Vodacom account and been chosen to work further on KFC. She describes her role as an Art Director as being able to combine conceptual thinking and design to conquer retail and brand campaigns. Saarah brings a more youthful perspective to her team as she is often the most junior, but this hasn't stopped her from contributing meaningfully to big national campaigns. Her colleagues at Ogilvy say her passion for the work and her way of tackling jobs has inspired them, as often she completes jobs that are meant for a Senior Art Director even though she is a Junior. Saarah's goal is to make an impact on social issues in SA and to influence the rest of the world through creativity, with a special focus on youth development. At Vega, she learnt how to develop campaigns collaboratively, something that has helped her transition to the agency environment as they are now following the same model of integrated thinking and working. 
Vega's Brand Challenges and Design Jams gave her the upper hand in competitions like Super Saturday because she "already knew how to navigate those situations and pressured environments." Saarah recommends studying her degree because it gives students the advantage in the creative and marketing industries as it's highly specialized and "dives deep into how advertising works". The real-life experience has proven to be invaluable, adding to the benefit of learning in small, intimate classes where students are encouraged to interact with lecturers and have ongoing consultations.
*Saarah graduated with The IIE Bachelor of Arts (BA) in Creative Brand Communication. As of 2018, the three streams that used to be offered on this degree will be offered as standalone degrees in Graphic Design, Copywriting and Digital Design.