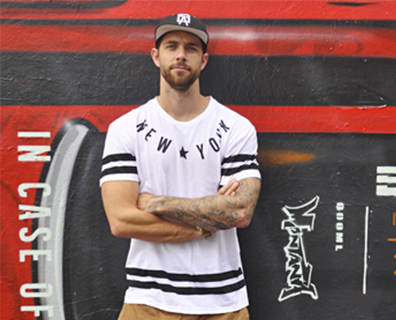 IIE BA Creative Brand Communications

Durban

Art Director
Durban born and bred Shaun Oakley AKA That Damn Vandal, is a graduate of The IIE Vega Durban – CBC Class of 2010 has been making a BIG splash in Durban. With his unique street art, a mix of vector illustration and graffiti. Shaun is in demand by prestigious brands which include Nando's, MRP, Derivco, TBWA JHB/DBN, Unilever, Ignition Group, Redbull and many more. Shaun has been featured in several different prestigious publications.
Shaun has recently been commissioned to the Florida Road Urban Improvement Precinct (UIP) and has turned the kiosk, which is used by Metro Police as a satellite police station during the day, into something which has brightened up the park.
This project is part of the UIP's mandate to rejuvenate Florida Road through the management of public open space. Shaun is a Durban graphic designer by trade and a street artist by passion. His love for Durban and Florida Road is expressed in his work. While Shaun was given license to apply his creativity to the final mural, the artwork talks to a combination of local touch points. The history of the road as a central route through Durban, is a significant one, from it being a well-worn elephant track that took the animals on their daily trek for water from the top of Berea down to the Greyville Marsh (now part of Royal Durban Golf Course), to the road being the route for the first municipal tramline in South Africa, laid in 1892. The architecture and high street feel of Florida Road is also recognised in the mural. In February this year, the eThekwini Municipality's Parks department, together with Metro Police and the UIP, set up the park kiosk as a joint community service office for the road. The dedicated Florida Road Metro Police officers are currently based here and over time it is hoped that this kiosk will be used for tourist information as well as for a dedicated UIP representative. "The Gordon Road Park kiosk has become a great community asset with so much potential for the future, and we thank City Parks for allowing the UIP to liven it up with the mural," said Jarrod Evans, Florida Road Precinct Manager.