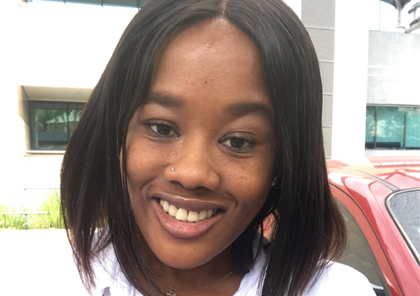 IIE BA Honours in Graphic Design

Johannesburg

Own business, Misstpink Designs, and is a Graphic Designer at Momentum
​Thami has her own part-time business, Misstpink Designs, where she focusses on customised illustrations, but her 'day job' is working as a Graphic Designer at Momentum. She calls herself a designer, illustrator and entrepreneur, and has thousands of Instagram and Facebook followers who she markets her skills to. She creates pop art and is influenced by 'the everyday' and other digital influencers, while also noting how her audience's views contribute to her final product too. She believes that as a designer, it's her duty to continue designing after hours so that she can devote her time to honing her craft. Thami says, "Design thinking throughout [her] studies made [her] think outside the box… think of the impossible." She goes on to say at The IIE's Vega she was, "always thinking… always staying creative". In her Honours research, she focused on co-design and the development of products aimed at the youth market and says her Honours in Graphic Design prepared her for the working world, particularly how her dissertation focused on researching how to create designs that appeal to and influence youth culture. This helped her gather research to build her business and improve her client base. She recommends Vega because it has, "resources, lectures and excessive information" that is given to every student with, "care, guidance and knowledge."