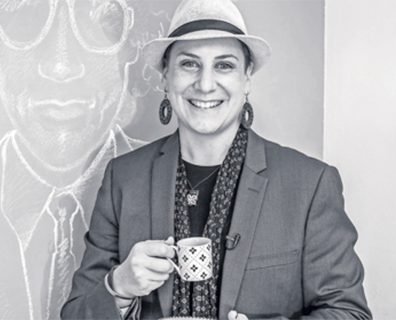 IIE Diploma in Creative Communications, majoring in both art direction and Brand Strategy

Johannesburg

Founder and CEO of The Toni Glass Collection
The Toni Glass Collection is rapidly becoming South Africa's premier tea brand, and is set to soon bag its share of the $70-billion global tea market. Teas from the Toni Glass Collection are currently available in more than 500 coffee shops, restaurants and hotels in South Africa, can be found in hundreds of supermarkets and are promoted by some of the larger chains like Mugg & Bean, Wiesenhof, Dulce Café and Vovo Telo.
Born and raised in Johannesburg, Glass completed her higher diploma in creative communications, majoring in both art direction and brand strategy at the Vega Brand Communication School. After graduating at the top of her class, Glass joined M&C Saatchi as a junior art director. Already full of entrepreneurial ambition, she left a year later to start her own below-the-line agency with a fellow graduate. After four years, they sold it as a successful business in 2004. After staying in marketing and advertising for some time, she finally decided to go into tea. Most of today's tea is produced as a commodity item: cut, shredded into small pieces and bagged for easy distribution. Glass instead uses full-leaf teas from tea gardens and estates where the leaves are processed in such a way as to retain their integrity. The production strictly follows traditional manufacturing and preparation methods, and the leaves are combined, blended and packaged as a connoisseur product. The Toni Glass Collection designer teas come in silk bags, which are housed in brightly South African boxes.
According to Glass, tea needed a new angle: "Coffee, cheese and wine have all had a revamp, but tea was just 'good old tea' and 'rooibos'." Her gourmet approach to tea focuses on tea drinking as a slow, indulgent experience. She travelled the globe, from Australia to Las Vegas, attending every possible tea seminar, course and conference, and is well on her way to becoming an official international tea master. After tasting and testing hundreds of teas from all over the world, she narrowed her selection down to eight flavours. Her first sale was in 2009 to TJ Baristas, a small coffee shop in Johannesburg, but it demonstrated that the Toni Glass Collection had promise. Having started the business from a two-bedroom flat, she soon found it necessary to move her operation to a dedicated facility. Her first employee, Rejoyce Ncube, started as her domestic worker and is now head of receiving and dispatch at the Toni Glass Collection Food Safe facility. Glass now employs a team of 15.
In just a few years, Glass has managed to establish a loyal and wide customer base. The Toni Glass Collection was selected at the Los Angeles Tea Expo as being one of the top four trendsetters in tea in 2014.