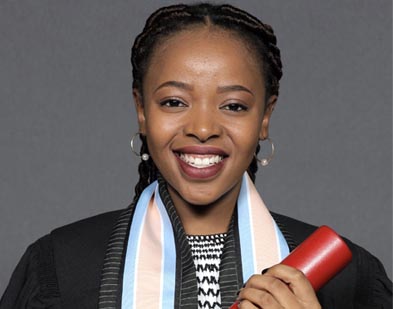 IIE Bachelor of Commerce (BCom) in Digital Marketing

Johannesburg

Paid search digital department at Wavemaker South Africa.
​Zoleka works in the paid search digital department at Wavemaker South Africa. She describes digital marketing as encompassing all the different kinds of marketing efforts that use an electronic device or the internet like search engines, email, social media and websites that are used by clients to connect with customers. Her role at Wavemaker is to build, manage, measure, optimize and report on digital campaigns for their respective clients. Wavemaker is a next-generation agency that sits at the intersection of media, content, and technology. Zoleka believes technology's influence on the modern-day consumer journey has undeniably changed and shaped the marketing world. In her capacity at Wavemaker, she believes that with each campaign that is implemented they are effectively helping clients reach their target audiences, educate them about their products and brand knowledge.
The IIE BCom in Digital Marketing gave her "the opportunity to explore the digital world in its complexity." She found the degree to be practical as much as it is theoretical, as she became more than a team member or an ordinary student. She says Veganites become unique individuals "who can adapt to any environment and still thrive in creativity, skill, and experience." She credits her degree with opening her mind and helping her to see the BIG picture of the BIGGER picture. "[She] walked out of Vega unsure of where [she] would go or end up but certain that [she] could conquer anything," Zoleka recommends The IIE BCom in Digital Marketing for those who are passionate about the digital space and keen to learn about the fast-paced life of the digital marketing industry. Vega gave her a well-rounded introduction of what the digital marketing space is with a pinch of commerce to stimulate her business mindset. She comments that The IIE degree she studied offers you the ability to build a career in any digital environment.