Why I Studied a Business Degree at a 'Creative School'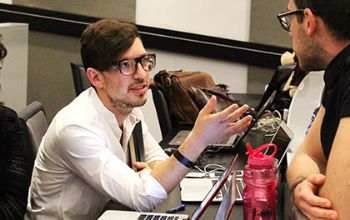 The future of business is by no means a straight line, with companies now expanding their recruitment criteria to include candidates with creative backgrounds and skillsets. As a result, young people entering the job market are beginning to take a more comprehensive, unconventional approach to their studies to become 'all-rounders' in their chosen field. This makes qualifications such as the IIE's BCom Strategic Brand Management degree very effective.
Devon Solomon, a former student of The IIE's Vega, a brand of The Independent Institute of Education (The IIE), is one of many young South Africans choosing to study at institutions known for nurturing creative talent to gain a well-rounded education. While his goal was always to become a businessman, Solomon also wanted to be part of a learning environment that resonated with his values and world-view.
Solomon, who recently joined Accenture's gruelling graduate programme as a Strategic Consultant, says that studying at an institution known more as a 'creative school' has many merits, and is particularly beneficial for students hoping to shape their own unique career paths.
"I chose to study at The IIE's Vega because of the great business available, and because the institution's values resonated with me," says Solomon. "For me, a good business is a business that tries to do good, and transparency and ethics are vital in this process. The IIE's Vega approaches all problems with 'whole-brain thinking' as opposed to specialising in only one discipline. Gone are the days of either left or right brain graduates."
During his time at The IIE's Vega, Solomon was instrumental in implementing a number of education and community upliftment initiatives, including the launch of TEDxVega during his second year at the school. He spearheaded the introduction of a unique fire detection system in a town in Mozambique, after witnessing the death of two children in a shack fire.
Solomon also had the opportunity to study in the Netherlands for six months as part of The IIE Vega's exchange programme. During this time, he gained insight from a variety of mentors and other students from around the world.
"It's always going to be up to the individual to seize opportunities and create enriching and fulfilling careers for themselves, but it helps to be part in an enabling environment too," he says. "I believe that if something doesn't exist, it's up to you to create it and that's one the most important lessons I learned from studying at The IIE's Vega."
Creative environments give young people a safe and accepting space to come up with the ideas that will change the world for the better, whether they hope to become an artist or an economist. This is vital if we have any hope of nurturing a generation of strategic thinkers and problem-solvers.
To join our 8200+ successful alumni, get in touch with us today. Should you wish to learn more about the IIE qualifications delivered in full-time, part-time and online studies, click here.