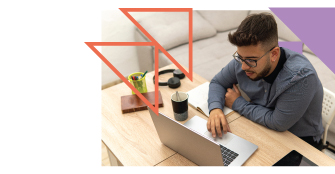 Qualification information
COURSE: Degrees; Undergraduate Degree
MODE: Distance
DURATION: 4 years | Part-Time
NQF LEVEL: 7
CREDITS: 360
SAQA ID: 93948
This qualification is also available
Overview
Equip yourself with the potent fusion of brand and business strategic skills required to design the unique, innovative strategies to unleash the true market power of the brand. The IIE BCom in Strategic Brand Management grooms graduates for leadership positions in brand management and business strategy in a range of industries in both developed and developing markets. The programme is focused upon the development of smart, original and cohesive brand, business, and management strategies that challenge existing paradigms. As part of the experiential component of the qualification, students work in multidisciplinary teams engaging in real-world brand challenges. Action learning is rounded off with the option of an Industry Immersion programme with companies, agencies or consultancies of choice.
So, you are about to enter higher education, or you are pursuing a career and want to accelerate to the next level, or you may be at a time in your life where you can finally follow the path you've desired for so long.
This is exactly why distance learning with The IIE's Vega School is the perfect fit for ambitious individuals who lead full lives and want to pursue a rewarding career as an innovative strategic brand builder. Whether you are entering higher education for the first time or returning to studies to make a career move, you will benefit from the flexibility that distance learning offers. More importantly, you gain access to hands-on specialist training unique to The IIE's Vega.
IIE-Vega is distinctively a brand-centric school enjoying high respect in industry. Our tutors possess the requisite expert knowledge and experience to encourage and develop strategic thinking, creativity and innovation.
By joining us you can pursue your purpose, advance your career and become part of an influential network of industry partners and alumni.
Structure of the degree for distance learning:
The IIE BCom in Strategic Brand Management consists of 24 modules and has been set up to support a four year journey with a maximum completion time of eight years. Students are required to register per academic year; and each academic year consists of two semesters.
Brand Activation in Year 3 and Brand Challenge in Year 4 are hallmark IIE-Vega projects that provide exciting opportunities to engage with real-life briefs and apply what it means to be creatively strategic and strategically creative. Students participate in distance (online) collaboration with real-world challenges and clients.
Students have the option to complete 120 hours (in one or several periods) of industry immersion and receive an IIE Vega Industry Immersion certificate of completion before they graduate. These immersions create unique opportunities for students to explore their professional interests and potentially secure an internship programme or full-time position in a company, agency or consultancy.
Modules:
Year 1:
Accounting 1A
Brand Management 1
Critical Thinking and Media Studies 1
Accounting 1B
Business Management 1
Quantitative Techniques
Year 2:
Creative Development 1
Brand Management 2: Channel Planning
Financial Management for Strategic Brand Management 2
Introduction to Micro and Macro Economics
Practice of Innovation
Brand Management 2: Developing Markets and Consumer Behaviour
Year 3:
Economics in Brand Building 2
Business Management 2A: Entrepreneurship
Brand Management 3A: Strategy
Brand Activation
Business Management 2B
Brand Management 3: Strategic Brand Evaluation
Year 4:
Digital Brand and Business Strategy
Introduction to Research
Business Management 3A
Brand Challenge
Research Practice
Business Management 3B
Study further with IIE Pathways
The successful completion of the IIE BCom in Strategic Brand Management enables you to progress into the IIE BCom Honours in Strategic Brand Management delivered at IIE Vega, subject to meeting the admission requirements.
Distance delivery includes:
A distance learning system that leads students through the content, prescribed material and activities.
Distance academic navigators (tutors) who are subject experts and maintain the human experience of the learning process.
Weekly live sessions with your distance navigators.
A dedicated success navigator who supports students throughout the learning journey.
Our flagship Brand Challenge project – a distance transdisciplinary collaboration with real world challenges and clients.
Access to our distance information centre and resources.
Note: While you can generally structure your study time as you need, there are scheduled distance sessions during which you will get mediated support. Scheduled assessments in the form of online activities, assignments and exams are paced to ensure your studies progress.
What you need in terms of technology, time, and materials:
A reliable internet connection (we recommend 5-10 GB of data per month), your own device with at least Windows 7 (Microsoft Office 365 is available as a free download for IIE students) and Google Chrome, Microsoft Edge Chromium or Firefox.
Software license requirements: Year 1: Adobe Photoshop CC 2018.
Prescribed textbooks are available for online purchase.
Distance students need to commit to approximately 20-25 hours a week for distance engagement (most of which will be after hours) with material and assessments to succeed.
All final semester exams need to be written at an IIE campus or other approved exam centre.
Please note synchronous sessions generally take place after hours.
To succeed in your distance journey, you need to be:
Self-motivated and invested in your learning journey.
Disciplined and able to balance studying with work and family commitments.
Able to direct your own studies, maintaining a diligent pace.
To assist you in succeeding in your distance journey, our teaching approach is:
Student-centric: we facilitate your thought processes to foster innovative ideas and creative solutions.
Authentic: we use real-life examples and case studies.
Activity-based: We move your learning forward through applied activities and assessments.
Discussion-based: we ask you questions and stimulate debate to provoke deep thought and insights about course content.
Tuition Fees
First year fee for new registrations starting in 2024
R47 700 Full Settlement Total Fee
R50 220 Instalment Total Fee (6 Monthly Instalments)
R51 120 Instalment Total Fee (10 Monthly Instalments)
A *Pre-Registration Fee of R2 500 is included in the Total Fee
A Deposit of R15 066 is included in the Total Fee for the 6 Instalments option.
*Refundable if admission criteria for the qualification is not met.
Please note:
Applications for the 2024 intake are subject to a non-refundable application fee of R400.
You will be required to complete a new contract annually which will include fees for that year.
Returning students can consult the bill of costs on the website to obtain their 2024 fees based on their basket of modules.
Entry Requirements
A National Senior Certificate (NSC) with Degree admission- A minimum of 30% for English, 40% for Mathematics or 60% for Mathematical Literacy/Technical Maths; OR
A National Certificate (Vocational) NC(V) with Degree admission – A minimum of 50% for English on either First Additional Language or Home Language level AND Mathematics 50% or 60% for Mathematical Literacy; OR
A Senior Certificate (SC) (with endorsement) with at least 33.3% for English and 40% for Mathematics on the HG; OR at least 60% for Mathematics on the SG; OR
A Senior Certificate(Amended) SC(A) with degree admission with at least 40% for Mathematics on the HG; OR at least 60% for Mathematics on the SG, A minimum of 30% in LOLT in NSC/SC(a) OR with a min. of 33.3% in SC
For international qualifications: An USAf Exemption Certificate is required and meeting the relevant Maths and English requirements.
Alternatively, a cognate Higher Certificate or cognate 240 credit Diploma OR an Advanced Certificate OR 360 credit Diploma may satisfy the minimum admission requirements to degree studies. If discipline not cognate at least 20% of credits must be academic literacy or numeracy related.
Senate Discretionary Admission
Mature Age Exemption: A USAf Exemption Certificate is required
Candidates having attained the age of 23 before or during the first year of registration with a Senior Certificate with a minimum of 40% in at least four higher or standard grade subjects, at least three of which shall have been passed simultaneously and one of which shall be a recognised higher grade subject; OR
Candidates must have attained the age of 45 before or during the first year of registration.
An USAf exemption Certificate is required.
Senate Discretionary Mature Age Admission for students with a Senior Certificate with endorsement
Candidates 23 years and older at point of registration, with an endorsed Senior Certificate can be accepted on a senate discretionary mature age admission. Their academic progress will be tracked and reported at Senate. An USAf Exemption Certificate is not required.
Recognition of Prior Learning (RPL)
Where candidates do not satisfy the formal admission requirements for this qualification, The IIE may consider an admission application in terms of the Credit Accumulation and Transfer, Recognition of Prior Learning and Qualification Completion Policy (IIE010).
USAf approved cognate foundation programme
Candidates who have completed an USAf approved cognate foundation programme from a registered and accredited provider may be admitted.
An USAf Exemption Certificate is required - the Office of the Registrar will facilitate, on behalf of the student, an application for degree admission to USAf, once the student has provided proof of payment to USAf.
Transfer students
Candidates who have successfully completed at least 120 credits on the first year of a cognate degree may be admitted. The additional Maths/Math Lit/Technical Maths criteria falls away. However, if a student completed less than 120 credits, the admission criteria on the NSC or equivalent apply.
OQSF qualifications
Candidates with an OQSF Level 5 cognate qualification may be admitted, provided the OQSF qualification has at least 120 credits at NQF Level 5. An USAf Exemption Certificate is required - the Office of the Registrar will facilitate, on behalf of the student, an application for degree admission to USAf, once the student has provided proof of payment to USAf.
Should you have any other school leaving qualification not mentioned above, please reach out to a contact navigator.
Jobs in this field:
Strategic Planner
Entrepreneur
Product/Marketing/Brand Manager
Account Manager
Business Consultant
Brand Strategist
Marketing Manager
Channel Planner
Brand Auditor